Alloy Steel UNS K41545 Pipes, ASTM A691 Alloy Steel EFW Pipe, Seamless Ferritic Alloy-Steel P5 Pipe, P5b Alloy Steel Boiler Steel Pipe Distributor, Alloy Steel P5 Seamless Pipes, ASME SA335 Grade P5c Alloy Steel Pipe Supplier in Mumbai, India.
Pipes constructed from ASTM A335 P5 material are good for fusion welding, flanging, bending, and similar applications. ASTM A335 P5 material is a subset of ASTM A335 and is a component of ASTM A335 P5. ASTM A335 P5 has the following chemical composition: carbon (max.) 0.15, silicon (max.) 0.50, molybdenum (max.) 0.45-0.65, phosphorus (max.) 0.025, manganese (max.) 0.30-0.60, chromium (max.) 4.00-6.00, and its UNS Designation is K41545. Pipes of the P5 grade are constructed from raw materials that have completed the most stringent quality testing and are developed under the scrutiny of highly trained personnel. The fabrication of these pipes incorporates sophisticated technology that meets or exceeds international quality requirements and specifications.
A335 P5 attributes include a yield strength MPa of 205 min, a tensile strength MPa of 415 min, and an elongation percentage of 30 min, among other things. Depending on the heat treatment method (normalize and temper), the subcritical annealing or tempering temperature range might be as high as 1250 Fahrenheit (675 C). When the heat treatment type is subcritical anneal (P5c only), the temperature range is 1325 - 1375 F [715 - 745 C]. The tube ends of these pipes might be threaded, bevelled, or plain in appearance. Such pipes are made from high-grade raw materials of the highest quality, and they are constructed in strict accordance with industry standards. Because of their long service life, these pipes are extensively employed in various sectors.
Neminox Steel & Engineering Co. has a large inventory of SA335 P5 in Chrome-Moly Pipe in various sizes. ASTM A335 P5 Pipe is a subset of the ASTM A335 Pipe standard, and the pipe material must meet the chemical composition, tensile property, and hardness standards of the ASTM A335 Grade P5 Pipe material. All ASTM A335 grade P5 Pipes sizes that each technique may evaluate will be subject to the constraints imposed by the scope of the particular practice in which they are being used. With a large inventory of ASTM A335 Alloy Steel P5 EFW Pipes in all sizes and diameters, we are the preferred supplier to government and public sector organizations such as Indian Oil, BARC, ONGC, Bharat Heavy Electricals Limited (BHEL), British Petroleum (BPCL), and BPCL among others.
The steel material used in the production of ASTM A335 pipes and other products must meet the specifications for tensile strength, chemical composition, and A335 P5 hardness. When high-temperature service is required, certain pipes are employed in the appropriate applications. These pipes are perfect for forming procedures such as flanging, fusion welding, bending, and similar forms. These are highly used because of their corrosion resistance, tensile strength, and high-temperature strength. They are incredibly cost-efficient to utilize; such pipes are in high demand in petrochemical and power generating sectors.
A335 gr P5 Pipe (ASME S/A335, Chrome-Moly) is a seamless ferritic alloy-steel pipe designed for high-temperature applications. In the power sector and petro-chemical industries, alloy steel P5 pipe and P5 seamless pipe are used for high-temperature applications such as bending, flanging, and other similar forming processes. They are also used for fusion welding in these environments. In addition to ASTM A335 P5 chrome-moly pipe, ASME SA 335 Alloy Steel P5 Seamless Pipe is also known as ASTM A335 P5 chrome-moly pipe due to the chemical composition of Molybdenum (Mo) and Chromium (Cr) (Cr). As a result of the presence of molybdenum, the strength of BS 3604 P1 625 Square Pipe is maintained, as is the elastic limit, wear resistance, impact characteristics, and hardenability. The high-temperature strength of ASTM A335 Grade P5 Alloy Steel Seamless Pipe may be improved by adding molybdenum, the most influential single addition.
A335 P5 Alloy Steel Seamless Pipe, ASTM A335 UNS K51545 High Pressure Steel Pipe, Global Supplier of High Quality Alloy Steel P5 Seamless Pipe, Alloy Steel Pipe UNS K41245, Alloy Steel ASTM A335 Grade P5b Seamless Pipe Manufacturer, P5c High Pressure Steel Pipe Exporter in India.
Specification Chart of Alloy Steel P5 Material
| | |
| --- | --- |
| Size in Inch | 1/8NB TO 24NB inch |
| ASTM Standards | ASTM A 335, and ASME SA 335 |
| Type | Seamless Pipe |
| Specialized in Size | Large Diameter Size |
| Outer Dimensions Chart | 19.05milimeter – 114.3milimeter |
| Wall Thickness Chart | 2.0milimeter – 14 milimeter |
| Length in milimeter | max 16000milimeter |
| Schedule Chart | Schedule 20 - XXS up to 250 milimeter thk. |
| Pipe Form | Round, Rectangular, Square, Hydraulic Etc. |
| Length | Single, Double Random & Cut to Length. |
| Pipe & Tube End | Plain, Beveled, Treaded. |
Long lengths of ASTM A335 Alloy Steel P5 Seamless Pipe and High-Pressure P5 Boiler Pipe are available in the hot-rolled form up to 22.5m in length, depending on the application. To suit particular surface requirements and tight diameter and wall thickness tolerances, seamless ferritic alloy-steel P5 pipes may be offered in various sizes. Cold-drawn ASTM A335 P5 Alloy Steel Pipe & boiler pipe are available in lengths up to 25m with tight tolerances, in standard and non-standard dimensions, and inside-diameter control, depending on the application. Each P5 tubular product, including combustion chamber tubes, header pipes and line pipes for main steam and reheater circuits, is available in the full range of sizes, up to large, heavy wall pipes in all required steel grades, from the smallest dimension up to sizeable heavy wall pipe in the full range of sizes.
Equivalent Material Grade of Alloy Steel Gr.P5 Pipes
ASTM
ASME
JIS G 3458
UNS
BS
DIN
ISO
ABS
NK
LRS
A335 P5
SA335 P5
STPA 25
K41545
3604 P1 625
2604 III TS37
ABS 14
Chemical Composition Chart of ASTM A335 P5 Welded Pipe
Alloy Steel P5
C
Cr
S
Si
Mn
Mo
P
0.05 – 0.15
1.00 – 1.50
0.025 max
0.50 – 1.00
0.30 – 0.60
0.44 – 0.65
0.025 max
Mechanical Properties Chart of Alloy Steel Grade P5 Pipe
| | | |
| --- | --- | --- |
| Tensile Strength, MPa | Yield Strength, MPa | Elongation |
| 415 min | 205 min | 30 min |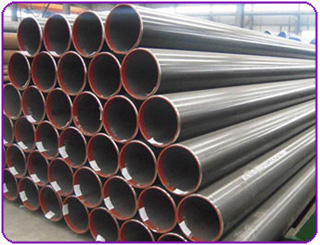 Schedule chart of ASME SA 335 Grade P5 ERW Pipe
| | | |
| --- | --- | --- |
| O.D. x Thickness(mm) | O.D x Thickness(mm) | O.D x Thickness(mm) |
| 38.1 x 3.2 | 57.0 x 4.9 | 76.2 x 4.0 |
| 38.1 x 4.0 | 57.0 x 6.3 | 76.2 x 5.0 |
| 38.1 x 6.3 | 57.0 x 7.9 | 76.2 x 6.3 |
| 42.4 x 3.2 | 60.3 x 3.2 | 82.5 x 4.5 |
| 42.4 x 4.0 | 60.3 x 3.6 | 88.9 x 3.2 |
| 44.5 x 3.2 | 60.3 x 5.0 | 88.9 x 3.6 |
| 44.5 x 6.3 | 63.5 x 3.2 | 88.9 x 4.0 |
| 48.3 x 3.2 | 63.5 x 3.6 | 101.6 x 3.6 |
| 48.3 x 3.6 | 63.5 x 4.0 | 101.6 x 4.5 |
| 50.8 x 4.5 | 63.5 x 6.3 | 101.6 x 6.3 |
| 51.0 x 3.2 | 63.5 x 7.9 | 114.3 x 3.6 |
| 51.0 x 3.6 | 70.0 x 3.2 | 114.3 x 5.0 |
| 51.0 x 6.3 | 70.0 x 3.6 | 139.7 x 4.0 |
| 57.0 x 3.2 | 70.0 x 6.3 | 139.7 x 5.0 |
| 57.0 x 3.6 | 76.2 x 3.6 | 139.7 x 6.3 |
Sizes In Mm for ASTM A335 P5 Pipe
ASTM A335 P5 Seamless Pipe OD
mm
Pipe WT
mm
in.
Sch
Kg/m
13.72
1.65
1/4
10S
0.50
13.72
2.24
1/4
40S
0.64
13.72
3.02
1/4
80S
0.81
17.15
1.65
3/8
10S
0.64
17.15
2.31
3/8
40S
0.86
17.15
3.20
3/8
80S
1.12
21.34
2.11
1/2
10S
1.02
21.34
2.77
1/2
40S
1.29
21.34
3.73
1/2
80S
1.65
26.67
2.11
3/4
10S
1.30
26.67
2.87
3/4
40S
1.71
26.67
3.91
3/4
80S
2.23
33.40
2.77
1
10S
2.13
33.40
3.38
1
40S
2.54
33.40
4.55
1
80S
3.29
33.40
6.352)
1
160
4.30
42.16
2.77
1¼
10S
2.73
42.16
3.56
1¼
40S
3.44
42.16
4.85
1¼
80S
4.53
42.16
6.352)
1¼
160
5.69
48.26
2.77
1½
10S
3.16
48.26
3.68
1½
40S
4.11
48.26
5.08
1½
80S
5.49
60.33
2.77
2
10S
3.99
60.33
3.91
2
40S
5.52
60.33
5.54
2
80S
7.60
60.33
8.742)
2
160
11.29
73.03
3.05
2½
10S
5.35
73.03
5.16
2½
40S
8.77
73.03
7.01
2½
80S
11.59
88.90
3.05
3
10S
6.56
88.90
5.49
3
40S
11.47
88.90
7.62
3
80S
15.51
88.90
11.132)
3
160
21.67
101.60
3.05
3½
10S
7.53
101.60
5.74
3½
40S
13.78
101.60
8.08
3½
80S
18.92
114.30
3.05
4
10S
8.50
114.30
6.02
4
40S
16.32
114.30
8.56
4
80S
22.67
114.30
13.492)
4
160
34.05
141.30
6.55
5
40S
22.10
141.30
9.53
5
80S
31.44
141.30
15.882)
5
160
49.87
168.28
3.4
6
10S
14.04
168.28
7.11
6
40S
28.69
168.28
10.97
6
80S
43.21
168.28
14.27
6
120
54.75
168.28
18.262)
6
160
68.59
219.08
8.18
8
40S
43.20
219.08
12.7
8
80S
65.63
219.08
18.23
8
120
91.30
219.08
23.012)
8
160
112.97
Thickness Chart of P5 Alloy Steel Pipes
NPS [DN] Designator
Tolerance, % from Specified
Over
Under
1/8 to 2 1/2 [6 to 65] incl., all t/D ratios
20.0%
12.5%
Above 2 1/2 [65], t/D < or = 5%
22.5%
12.5%
Above 2 1/2 [65], t/D > 5%
15.0%
12.5%
(t = Specified Wall Thickness; D = Specified Outside Diameter)
Heat Treatment of P5 Alloy Steel Seamless Pipe
| | | | |
| --- | --- | --- | --- |
| | P5, P9, P11, and P22 | | |
| Grade Chet | Heat Treatment Type | Normalize Temp Range F [C] | Annealing and Tempering Temp Range F [C] |
| P5 (b,c) | Isothermal or Full Anneal | | |
| | Temper and Normalize | ***** | 1250 [675] |
| | Subcritical Anneal (P5c only) | ***** | 1325 - 1375 [715 - 745] |
| P9 | Isothermal or Full Anneal | | |
| | Temper and Normalize< | ***** | 1250 [675] |
| P11 | Isothermal or Full Anneal | | |
| | Temper and Normalize | ***** | 1200 [650] |
| P22 | Isothermal or Full Anneal | | |
| | Temper and Normalize | ***** | 1250 [675] |
| P91 | Temper and Normalize | 1900-1975 [1040 - 1080] | 1350-1470 [730 - 800] |
| | Temper and Quench | 1900-1975 [1040 - 1080] | 1350-1470 [730 - 800] |
Type of P5c High Pressure Steel Pipe
ERW pipe
Welded Pipe
Seamless Pipe
Tensile of Alloy Steel P5 Chrome Moly Pipe
Seamless Pipe
P5
P9
P11
P22
P91
Tensile Strength, minimum., psi
ksi
60
60
60
60
85
MPa
415
415
415
415
585
Yield Strength, minimum., psi
ksi
30
30
30
30
60
MPa
205
205
205
205
415
Prices of UNS K41245 High Pressure Pipe
| | | | |
| --- | --- | --- | --- |
| Size | MSL Make | JSL Make | ISMT make |
| 1/2″ | 4,264.71 | 4,272.06 | 4,257.35 |
| 3/4″ | 4,044.12 | 4,051.47 | 4,036.76 |
| 1″ | 3,897.06 | 3,904.41 | 3,889.71 |
| 1.25″ | 3,852.94 | 3,860.29 | 3,845.59 |
| 1.5″ | 3,750.00 | 3,757.35 | 3,742.65 |
| | |
| --- | --- |
| Price of p5 Alloy Steel Pipes | ASTM A335 P5 Welded Pipe Price |
| ASTM A335 P5 Seamless Pipe price in india | Rs 160/ Kilogram |
| Alloy Steel P5 Material | Rs 300/ Kilogram |
| ASME SA 335 Grade P5 Square Pipe | Rs 125/ Kilogram |