The wide variety of carbon steel fasteners that we offer comes in many materials and sizes. We offer these in following sizes: Alloy Steel Fasteners "¼ to 4". We can customize these to any length according to client's specifications.
Alloy Steel Nuts, Alloy Steel Screws, Alloy Steel Washers, Largest Inventory of Alloy Steel Fasteners, AS Fasteners, ASTM A194 Alloy Steel Fastener, Alloy Steel Fasteners, Alloy Steel Bolts, Alloy Steel Heavy Hex Bolts, Alloy Steel Gr. B6 Hex Nuts, Alloy Steel Industrial Fasteners Supplier in Mumbai, India.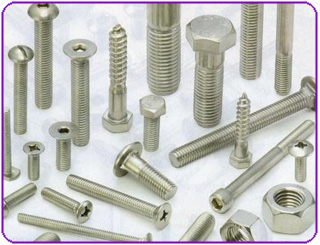 Chrome Moly Heavy Hex Screws Manufacturers, Carbon Steel Anchor Bolt, Alloy Steel Studs, Alloy Steel Grade B7 Fasteners, Alloy Steel Heavy Hex Nut, Alloy Steel Hex Bolts, Grade B7M Alloy Steel Hex Cap Screws, ASME SA194 Alloy Steel Bolts, Alloy Square Nuts, Alloy Steel Threaded Rods, Chrome Moly Plain / Flat Washer Dealer, Grade B16 Alloy Steel Studs, Chrome Moly Spring Washers Exporter in India.
Form BOLTS
STUD BOLTS, HEX HEAD BOLTS, ANCHOR BOLTS, U-BOLTS, J BOLTS, EYE BOLT, FOUNDATION BOLTS, STRUCTURAL BOLTS.
WASHER
PLAIN WASHER , PLAIN BIG & SMALL OD WASHER , SPRING LOCK WASHER , SPRING WASHER HEAVY DUTY , STAR WASHER.
NUTS
HEXAGON NUTS , SQUARE NUT , HEXAGON CASTLE NUTS , SELF LOCKING NUT , HEXAGON DOMED CAP NUTS.
SCREW
PAN HEAD SLOTTED SCREWS , CHEESE HEAD SLOTTED SCREWS , PAN PHILLIPSE HEAD SCREW , SOCKET HEAD ALLEN CAP SCREWS.
OTHER
THREADED ROD, AS PER DRAWING AND CUSTOMERS SPEC.